Quality at Green Seafoods
Located in Trinity Bay, Newfoundland, Canada, our state of the art production facility concentrates on shellfish and sea cucumber. Our production ranges from whole frozen to retail ready products. Our facility can store approximately 1000 metric tons of frozen products. With our state-of-the-art, live steam cooker we prepare our products above industry standard. This live steam cooker is the first of it's kind in North America.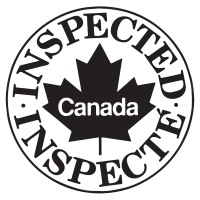 Establishments registered under the Fish Inspection Regulations are entitled to use the "Canada Inspected" logo on fish products prepared under an acceptable QMP. Only fish products that are considered "Product of Canada" are eligible for use of the logo.

Quality Process
The Plant Manager is ultimately responsible for food quality. The team also includes a Production Manager, Floor Supervisor and Quality Lead. Quality starts with inspection of sound fishing practices, offloading, transport and storage. Green Seafoods Ltd. is involved in these aspects and assures compliance prior to production through detailed raw material inspections. Quality points also include overall good manufacturing practices as well as plant and personnel hygiene, plant procedures and sound facilities.
Quality inspection staff document quality checks on incoming processing materials, raw product, online production and final product. All staff are trained in identifying and addressing issues which contravene the HACCP/QMP plan.